I dette innlegg skal dere få hilse på et nyere tilskudd til samlingen min. Denne frøkna var en av årets bursdagsgaver. I store deler av sitt liv har hun vært utstilt i en butikk i Ålesund. Da mamma kjøpte hodet på Finn.no, var den tidligere eieren snill nok til å dele litt av bakgrunnshistorien. Utstillingshodet skal være fra 40-tallet. Etter stilen å dømme tror jeg at hun fikk ny "sminke" en gang på 60-tallet. Under de litt harde mørke brynene kunne man skimte den originale malingsjobben.
In this post, I would like to introduce you to this little lady. She was one of my birthday presents this year. For a long period of her life she was exhibited in a store in Ålesund. When buying the bust my mother asked the seller to share some information. According to her the mannequin head is from the 1940s. Judging by the makeup, I think she got a new look in the 1960's. Under the dark eyebrows you could see some of the original paint job.
FØR / BEFORE

Selgerens historie: Mor og mormor drev parfymeri i Ålesund, (fra ca. 1940). Da mor skulle flytte butikken, overtok hun lokalene og hattene i Løvenvoldgate 5, i Ålesund. Den eksisterte i mange år, da parfymeriet flyttet til Løvenvoldgate 5 ca. 1980. Hattene og utstyret ble solgt den gangen. Mor beholdt kun utstillingshodet og noen få hatter. Nå har det stått ubrukt på loftet mitt i de siste ti åra. Kjekt at noen med interesse overtar den og den gamle hatten.
The seller's story: My mother and grandmother ran a perfumery in Ålesund, (from around the 1940s). When my mother moved the shop, she took over the premises and the hats in Løvenvoldgate 5, in Ålesund. It had existed for many years, when the perfumery moved to Løvenvoldgate 5, approx. 1980. The hats and equipment were sold at that time. Mom only kept the bust and a few hats. Now it has been in my attic for several decades. Lovely that someone interested in history now will take care of it.
Etter å ha blitt oppbevart på et loft de siste tiårene, trengte hodet en grundig vask. En hel søndag ble satt av til å fullføre prosjektet. Jeg startet det hele svært forsiktig med mildt såpevann. Det ble benyttet både klut, q-tips og bomullspads. Kun ved lett skrubbing fikk bysten en jevnere hudtone. Først etter å ha tørket over hele utstillingshodet, våget jeg meg på brynene. Det var utrolig spennende å se malingen forsvinne. Under ble det avdekket et sett med vakre og naturtro bryn. Med dette fikk jeg blod på tann. Skulle jeg våge meg på å fjerne den resterende malingen?
After being kept in an attic for decades, the head needed a wash. An entire Sunday was set aside to complete the project. I started it all very carefully with mild soap and water. Some gentle scrubbing evened out the skin tone. After wiping down the entire bust, I carefully moved on to the brows. It was incredibly thrilling to see the paint disappear. A lovely set of natural brows were hidden under the harsh black paint. This set of an idea: Should I dare to remove the remaining paint on her face?
Jeg begynte med å fukte en bomullspad i såpevannet. Denne la jeg over munnen for å "mykne opp" malingen. Deretter begynte jeg forsiktig å risse over leppene med en skalpell. Under burgunder-fargen kunne jeg skimte en lysere tone. Jeg gikk utifra at sistnevnte var den opprinnelige fargen. Når leppene var fri for maling, begynte jeg like godt på øyene. Det var da jeg oppdaget at under de blå irisene var orginalfargen grønn. Dette føltes ekstra fint, siden de da matcher mine egne.
I started by dipping a cotton pad in the soapy water. This I placed over the mouth to soften the paint. After some time I removed the pad and started working on the lips with a scalpel. Under the burgundy color I could glimpse a lighter shade. I assumed that the latter was the original color. When the lips were free of paint, I moved on to the eyes. That was when I discovered that under the blue irises, the original color was green. We now have matching eye colors.
Med blanke ark (i dette tilfellet et sminkefritt ansikt) kunne jeg skissere mitt nye design. Til dette tok jeg inspirasjon fra andre utstillingsdukker fra 40-tallet. De nye linjene ble først tegnet opp med akvarellblyanter. Disse strekene kan duses ned ved hjelp av vann, noe som gjorde det enkelt å rette opp eventuelle feil. Da jeg var fornøyd med strekene ble disse intensivert med akrylmaling. Jeg tok vare på fargepigmenter fra leppene og blandet en tilnærmet lik farge. Alle mine inngrep kan enkelt fjernes i fremtiden hvis den neste eieren skulle ønske det.
With a "makeup-free" face, I was able to sketch on my new design. For this I took inspiration from other mannequins from the 1940's. The new lines were first drawn on with watercolor pencils. These lines can be toned down with water, which made it easy to correct any errors. When I was happy with the design, I darked some of the lines with acrylic paint. From earlier I had saved some of the color pigments from the lips. From this I managed to make an almost identical color.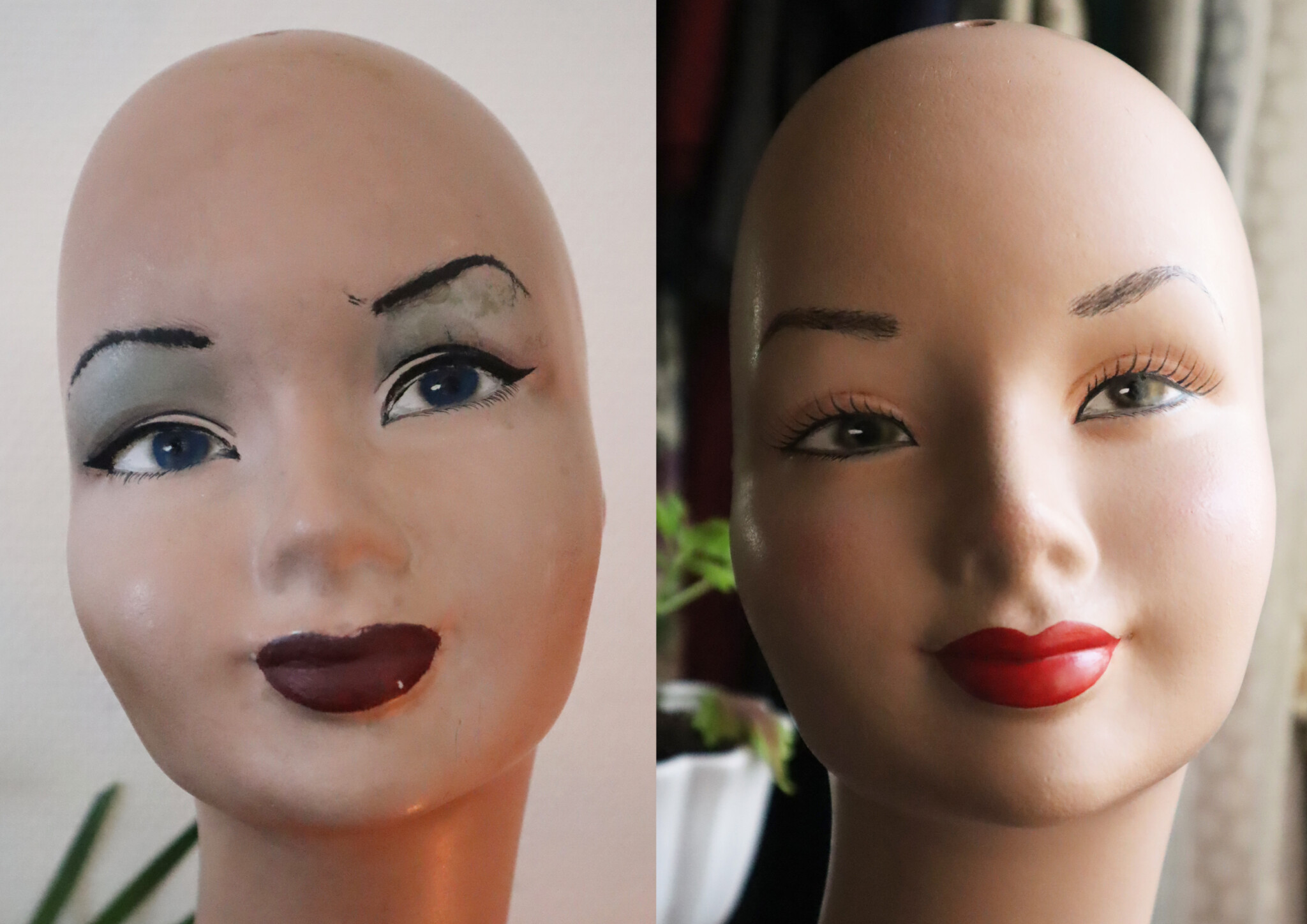 FØR OG ETTER
Dette lille prosjektet var utrolig spennende å gjennomføre. Det føles fint å ha satt henne tilbake i tilnærmet original stand. Uttrykket og stilen hun nå har, passer også bedre inn i min samling.
This small project was incredibly exciting to complete. It feels wonderful to have restored her to a version that is closer to the original.  
Hadde dere turt å begynte med et slikt prosjekt?
Hva synes dere om før og etter bildene?
Would you dare to start such a project yourself?
What do you think about the changes I made?